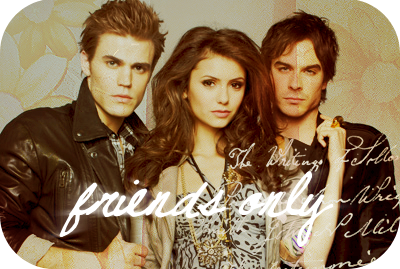 Credit to
majesticsea
Do you have the guts and desire to become a friend of mine? Friendship sucks with two hot vampires from CW! If you do, then leave a comment to be add to my friend list! Read my information in my profile before commenting here. Thanks!!! :D
morgandawn
at
Seems I Am Not The Only One....
......who feels the need to take a break from an increasingly dysfunctional relationship.
Original image and campaign source:
reddit
.
Edited to add my own thoughts (not part of the original reddit call for action):
And if you do not feel like taking a total break and perhaps want just a trial separation or couple's counseling, then perhaps consider Black March Lite 2.0 = spend, but spend money on those content creators and independent retailers who came out against SOPA/PIPA. And tell them why you're buying their products in March.
There are many of them.
And for those who favor the more targeted boycott, you can find info
here
. But no matter which, you
can
participate and you
can
tailor your level of participation. We have the tools, the will and the strength to take a stand.
Text of image
Black March - Thursday March 1st 2012 to Saturday March 31st 2012
With the continuing campaigns for internet-censoring litigation such as SOPA and PIPA, and the closure of sites like Megaupload under allegations of 'piracy' and 'conspiracy' the time has come to take a stand against music, film, and media companies' lobbyists.
The only way is to hit them where it hurts.
Their profit margins.
March 2012 is the end of the First Quarter in economic reports world wide.
Do not buy a single record. Do not download a single song, legally or illegally. Do not go to see a single film in cinemas, or download a copy. Do not buy a DVD in the stores. Do not buy a videogame. Do not buy a single book or magazine.
Wait the four weeks to buy them in April: see a film later, etc... Holding out for just four weeks, maximum, will leave a gaping hole in media companies profits for the first quarter, an economic hit which will in turn be observed by governments world wide as stocks and shares will blip from a large enough loss of incomes. This action will give a statement of intent:
"We will not tolerate the Media Industries' lobbying for legislation that will censor the internet."
Originally posted by
You Are a Good Friend Because You're Loyal


You stick with your friends no matter what, even if you feel like they're doing the wrong thing.

You believe in letting people figure out their own path in life. It's not your place to interfere.



And part of your loyalty means that you'll do a lot for your friends. You definitely go the extra mile.

You'll even do great things for friends without them asking. After all, that's what friendship is all about.



You are truly a friend for life. And you have friends you've known since you were a kid.

Your friends can count on you to do a favor, remember a birthday, or just be there to listen.



Your friends need you most when: They can't turn to anyone else



You really can't be friends with: Fickle people who change friends quickly



Your friendship quote: "Friendship doubles your joys, and divides your sorrows."

Who Should Paint You: Salvador Dali


You're a complex, intense creature who displays many layers.

There's no way a traditional portrait could ever capture you!

Your Life Path Number is 4


Your purpose in life is to build your vision.



You are practical and responsible. You work hard, knowing that there are no shortcuts in life.

You work for a better life for yourself and those you love, but you are not an idealist.

Trustworthy and honest, you also demonstrate great courage. People can count on you.



In love, you are a loyal and committed partner. You are the ideal spouse.



You don't give up easily, and sometimes you can be too stubborn and unwilling to change.

You also can be too conservative at times. You sometime miss out on good opportunities.

Also remember that not everyone can work as hard as you, as disappointing as that is!

You Are More Yin


Feminine

Devoted

Forgiving

Fall

Winter

Afternoon

Moon

Time

Passive

Metal

Honey

Yay!!! Chicago Blackhawks wins the Stanley Cup!! :D I saw it at Friday bar eating dinner with family! :D
Current Mood:

last night

Current Music:

g-dragon-korean dream
click here
. If you don't have a account at the site then you can comment here.
I just upload a new artwork in my deviantart account. The artwork is called Alice in Wonder Hallway. If you have a deviantart account comment over there. To see the artwork
I got 3 A's 3'B's!1 My gpa is........ 3.61!!!!!!!!! I THINK I GOING TO BE ON THE DEAN'S LIST FOR 3RD TIME!!! :D